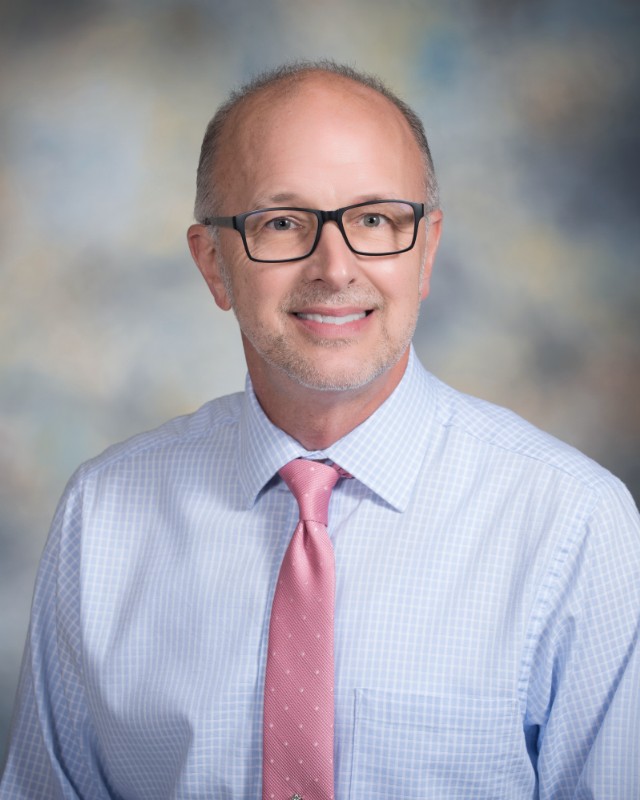 Edward Bowden
Secondary School Teacher
My favorite Bible verse is...
3 John 4
"I have no greater joy than to hear that my children are walking in the truth."
This will be my third year at RCS, but I have been involved in Christian education for thirty-seven years. I started my career in 1984 in Anchorage, Alaska, where I stayed until my wife, Linda, and I relocated to this area. I have worked with sixth-graders my entire career. I LOVE sixth grade, and I plan to have another amazing year.
Linda and I have four children (Austin, Danielle, Caroline, and Phillip), one son-in-law (Tanner), one daughter-in-law (Kaleigh), and five grandchildren (Tyson, Wesson, Raya, Edward the 3rd, and Jett) Our oldest son and his wife are currently in the United States, but they serve as missionaries to Santiago, Chile with ABWE (http://abwe.org) at Santiago Christian Academy (http://santiagochristianacademy.net). Our son-in-law is currently serving as a police officer with the Henrico Police Department. Tanner and Danielle live in the northern Richmond area. Caroline is unmarried and resides in Las Vegas, Nevada, where she works in a dermatologist's office. Our youngest son, Phillip, is finishing up his nursing degree from Grand Canyon University. He will most likely remain in Arizona to pursue his career.
I received my bachelor's from Baptist Bible College in Springfield, Missouri in 1984 and moved directly to work in Alaska. We were active members of the Anchorage Baptist Temple (http://abt.church) where we were very involved in the music department and Sunday school ministries, and the Anchorage Christian Schools (http://acsedu.org). Since arriving in the Richmond area, we now attend Staples Mill Road Baptist Church (http://smrbc.org) and are active in our Lifegroup and worship choir. We love our new church and pastor, and we know God moved us here to serve Him.
Random facts: I love coffee (beans are freshest) and chocolate.
I am the last of five children.
I was once a paid singer in a Jewish temple choir.
I am a member of the 5 Gallon Club - Blood Bank of Alaska.
I have photographed almost fifty weddings of all sorts, but I prefer photographing HS Seniors.
I survived a 7.1 earthquake while walking down the hallway on the second floor with my class.
(https://www.usgs.gov/news/2018-anchorage-earthquake)
(http://www.cnn.com/videos/weather/2018/11/30/alaska-earthquake-damage-mh-orig.cnn/video/playlists/alaska-earthquake/)
Yes, the Lord moves in mysterious ways, and this event did influence our moving.